The Sterling Engine
---
The Sterling Engine Picture below was built for 2.670 class. It does work (it is kind of slow). The parts were given to us in rough form in a kit. We spent 2 weeks in the machine shops turning, milling, tapping all of them into the shapes needed to assemble them into an engine. The engine runs off of denatured alcohol.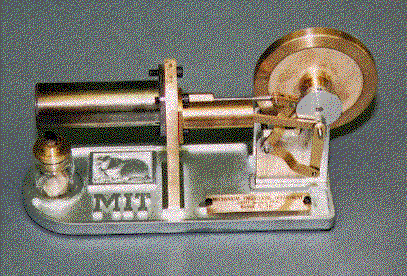 The machine shop was only half of the class. The other half was getting an introduction to different tool on the computer. We did modeling in Xess (spreadsheet), Pro/Engineer, and MatLAB.
In Xess, we modeled the temperature field in the heat transfer cylinder to compute the maximum theoretical power output of our engine.
In Pro/Engineer, we made CAD models of a few of the parts in the engine. The we learned how to assemble them into assemblies, and generate engineering drawing from the models.
In MatLAB, we solved equations to get graphs of Position (of the main shaft) Vs Work and Delta Temperature Vs Work. The graphs are below.